Our Mission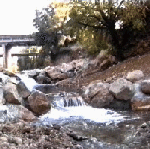 The Salmon and Steelhead Restoration Group (SSRG) is committed to restoring the Guadalupe River and Coyote Creek in San Jose, CA. for the migration of Salmon and Trout and the restoration of their habitats. This web site is for educating the citizens about the status of wildlife and habitats in the river and tributaries. Multi media pictures, audio, video and animation are used to show how Salmon live, once thrived, and now are struggling to make a comeback in the 'High Tech Capitol' of the world! We believe it is our responsibility to teach our children to be environmentally responsible by encouraging them to explore the natural resources in their own backyard. And our hope is to instill the responsibility in them to correct our misuse of the environment.
A Mammoth Discovery!
Roger Castillo and his dog Jenna were at the Children's Discovery Museum on June 11th 2011 to open the new exhibit "A Mammoth Discovery!". Roger was there to talk about the Mammoth he discovered while he was exploring the Guadalupe River. Want to learn more about Lupe?


Having trouble viewing? Download MP4 here.
Be sure to visit the Children's Discovery Museum to see Lupe and explore many other fun hands on exhibits.
Most recent posts
State files water pollution complaint against San Jose for failing to clean up homeless encampments We are pleased that Warden Lt. Byron Jones has moved this action forward. This is a great leap forward in cleaning up our rivers. You can read the full article below or follow the link here http://www.mercurynews.com/bay-area-news/ci_25388561/state-files-water-pollution-complaint-against-san-jose We at the […]